Upgrade your Legacy Control:
STEP Up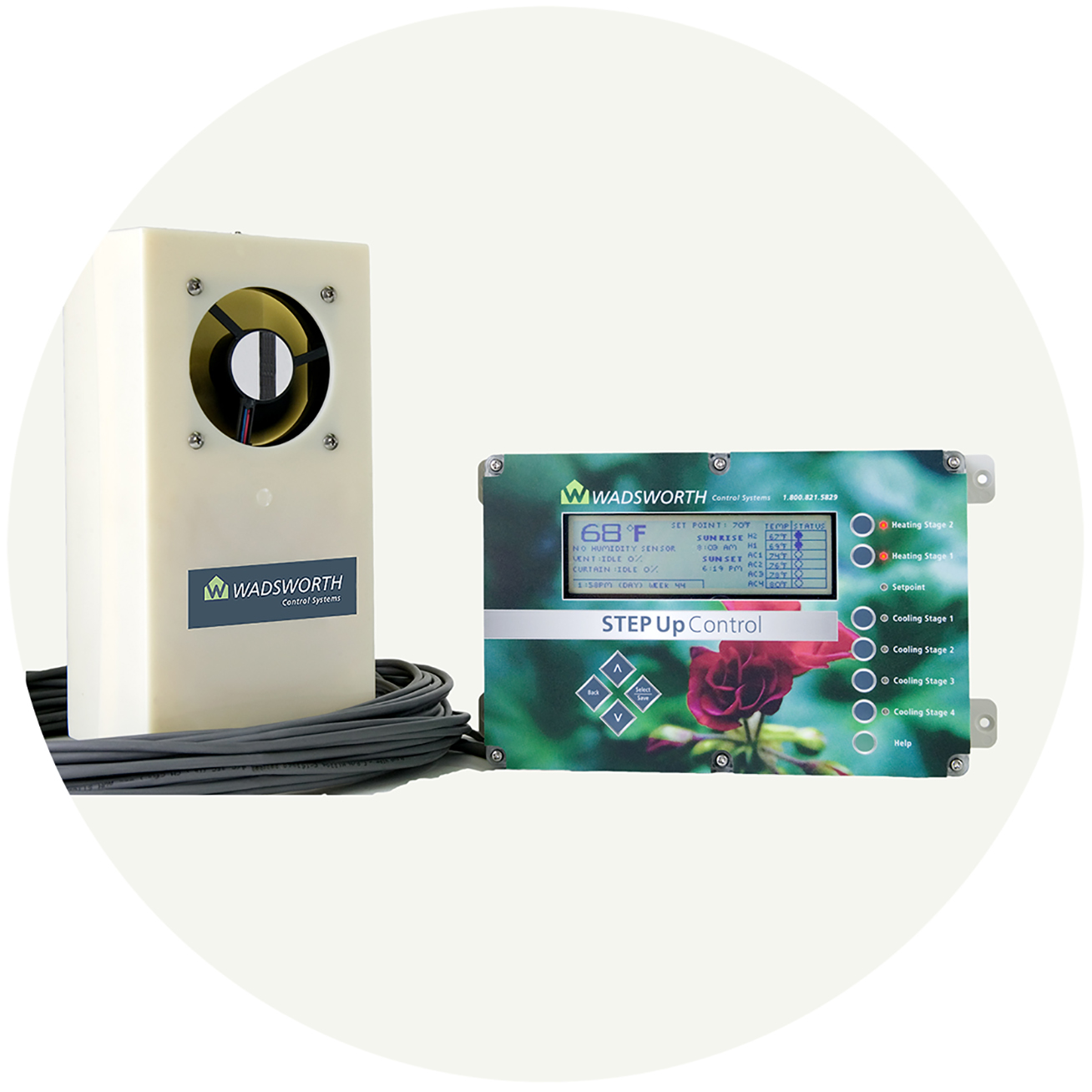 The STEP Up control transforms the way your greenhouse functions. With better intelligence, more sophisticated control options and powerful accessories like the Sensaphone, and STEP Up Compass, it gives you the support you need to be successful. The best news of all – it's simple to install and easy to use.
Benefits and Comparisons
Growers can save money and improve their crop by reducing the night time temperatures. The transition to the lower night time temperature is important, if not handled properly it can waste energy and increase expenses.
Ramping is the controlled transition between two temperature periods
The STEP Up has precise control, which allows a slow transition between temperature periods so no heat is wasted. This is known as ramping.
The STEP 50A transitions between the day and night periods using a photocell. The result can be a rapid and costly shift from day to night because the control turns on cooling stages to drop to the lower night time temperature.The STEP Up offers improved setpoint control
The STEP Up's three temperature setpoint periods: day, night and DIF offer better control.
You choose when to start each periods either based on sunrise and sunset or using clocktime. The STEP 50a control automatically switched from day to night based on the light level reading by the photo cell. Offering the grower no control over when the periods start.Temperature setpoint options:
The STEP 50a has only one temperature setting per time period. While this simplifies things for the end user it does not allow for a wide temperature span between heating and cooling events.
The STEP Up allows an energy saving option when neither cooling nor heating equipment is running. By offering a heating setpoint and a cooling setpoint it is possible to set extremes such as a heating setpoint at 50o, to prevent frost, and cooling at 75o, offering, in this example, an acceptable span for the crop, when no heating and cooling costsare incurred.Design

The STEP Up has a bright, easy-to-read screen with a home screen that displays current conditions. The STEP 50A has no screen.
You can use STEP Up Compass software to review crop settings and track your greenhouse remotely.
Our organization has benefited from choosing Wadsworth Controls. Their system has worked great, even in our non-traditional greenhouses and I've been able to operate the STEP Up even though my skill set has never been in mechanics or computers. Their service staff have also always been super helpful and friendly!
Features
6 stages: 2 heating and 4 cooling

Easily adjust the temperature for each stage

3 setpoint temperature periods – day, night and DIF; auto adjusts based on sunrise and sunset
2 modulating outputs control up to 2 vents or 1 vent and 1 curtain
1 analog output (0 to 10VDC or 4-20 milliamps) to control variable-speed fans and modulating valves
Cycle timer
Alarm output
Password protection
Easy to use push button interface
Large menu-driven screen displays current temperature, time, date, grow weeks, equipment status, etc.
Records the temperature in 15-minute increments and stores it for 7 days
Includes logs and graphs data
Logs high, low and average temperatures
Timed override switches in addition to the manual over ride toggle switches
Stores settings in the event of a power failure
Optional humidity sensor
Durable corrosion-resistant cabinet: 9.5" x 6.25" x 3.75" (241 x 159 x 95 mm)
Removable terminal blocks for easier wiring
Requires STEP Up on Contactor Panel, sold separately
Benefits
Wadsworth programs your control to operate your heating and cooling equipment
Improves crop quality
3 setpoint temperatures periods – day night and DIF
Reduced night temperature mimics nature
Use DIF to reduce stretch growth
Accurate temperature improves crop quality and consistency
Timed overrides allow you to fumigate
Reduces energy costs
Government approved energy saving device
Ramping allows for gentle transition between setpoint periods and saves fuel
Ability to lower the greenhouse temperature at night when 80% of the heating occurs, reducing energy consumption
Using one central temperature sensor prevents heating and cooling from running simultaneously
Solar-guarded, aspirated digital temperature sensor provides a more accurate temperature reading than traditional sensors
For every 1º of improved accuracy, you reduce energy consumption by 3% (compiled by the US Department of Energy)
Includes
Solar-guarded aspirated temperature sensor and 100' of cable
Cable to connect STEP Up to contactor panel
"Our organization has benefited from choosing Wadsworth Controls. Their system has worked great, even in our non-traditional greenhouse and I have been able to operate the STEP UP without much trouble, even though my skill set has never been in mechanics or computers. Their service staff have also always been super helpful and friendly!"